Introducing How to Plan a Great Event in 60 Days: The Course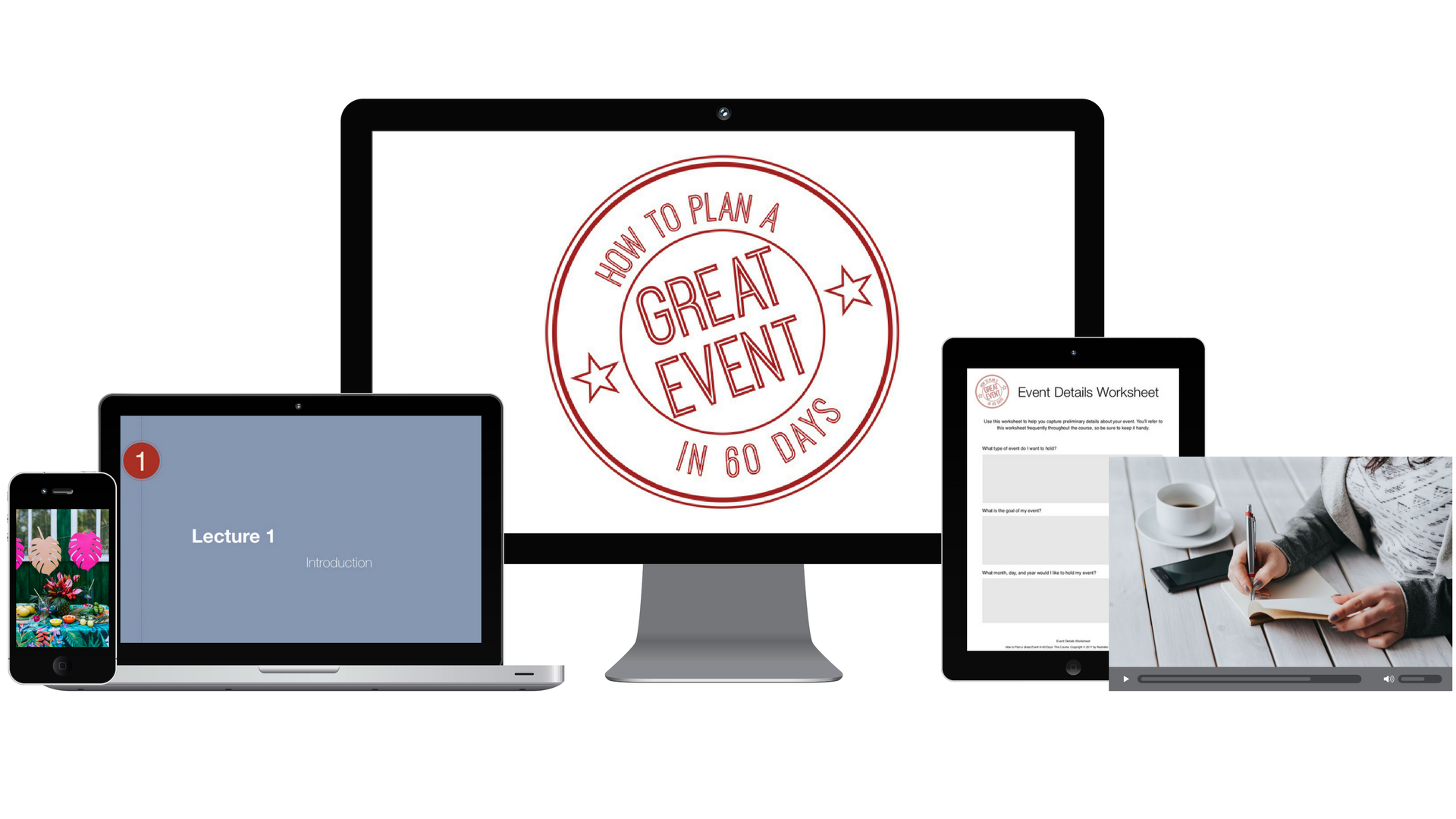 In this online course, you'll learn how to seamlessly plan, organize, and manage a large social event, step-by-step, in a little over two months' time.
---
A Solid Framework to Save You Time and Money
Plan your event the smart way. With our course you'll:
Get the structure and flexibility you need. Unlike other event planning courses, you're not locked into planning a birthday party, wedding reception, or business event. Our framework gives you the structure and flexibility to plan a variety of personal, professional, or community functions.
Easily familiarize yourself with event planning. Is this your first-time planning an event? We've got you covered! Learn how to plan an event step-by-step, through easy-to-digest lectures and assignments.
Save time and money, now and in future. There's no need to buy new event planning courses or guides. You can use the course again and again to plan any event, party, or function, this year, next year…and beyond!
---
Freedom to Get on with Your Life
We get it: your life is busy. You've got places to go, things to do, and people to see.
What if you could plan an event and still get on with your life? With this course you'll:
Easily manage your schedule. Your event planning assignments are lined up and ready for you. Just set aside time in your calendar to watch the lectures and complete the assignments, and you're good to go!
Stay productive and organized. Work on the right tasks at the right time. Plus, you'll learn how to organize and store your planning notes and materials for quick reference.
Have freedom to deal with all the other stuff in your life. Having a planning framework in hand frees up a lot of mental energy and focus. You can focus on your job, studies, and personal responsibilities, knowing your event planning is under control.
---
Only YOU Can Add That Special Personal Touch to Your Event
Hiring an event planner is always an option for any party or event that you throw...
But there's something that can't be matched when you plan an event yourself.
When you plan your event with our course you'll:
Have full and total control. YOU have complete control when planning your event. Want to select the main courses? Done! Need to okay those invitation drafts from the printer's? Finished! If you've always wanted to organize an event, this is your chance to shine.
Add your own unique personal touch. Make your event unique yours. How about hand-picking the flower centerpieces for your luncheon tables? Or how about surprising your guest speaker with a box of chocolates from their childhood hometown?
"Wow" your guests with the things that matter most. Only you know the birthday girl's favorite color is turquoise, and the anniversary couple loves dancing to Big Band music. Put more of your time and energy creating a fun and personable event for your guests.
---
Confidently Plan Your Event
Is keeping track of details not your strong point?
Don't worry, we've got you covered!
In this course, you'll:
Have a guide map at your fingertips. With our course, you'll know exactly where you are in the event planning process: what you've accomplished, what needs to be accomplished, and what's coming down the road.
Say goodbye to figuring out the details. No more agonizing over event details. We'll let you know what to consider when preparing your budget, what questions to ask potential venues, what to review days before the event...and much more!
---
Stay Cool, Calm, and Collected
Organizing event arrangements is just one piece of the event planning puzzle.
Come event day, you'll to manage the event itself.
That's why we've included special lectures to help you get ready for the big day.
With this course you'll:
Know what to expect immediately before, during, and after the event. Newsflash: your event planning doesn't operate in a vacuum. You'll learn how to navigate event day, before, during, and after, with flying colors.
Stay motivated throughout the planning process. Organizing an event requires A LOT of work and dedication. We're here to cheer you on, help you stay motivated and on track.